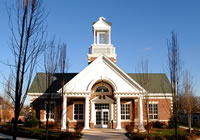 The College of New Jersey's s Spiritual Center is conveniently located near Norsworthy Hall, New Residence Hall and Decker Hall. It's beauty is enhanced by utilizing materials from the old Alumni Chapel. The foyer is made with the slate floor of the Alumni Chapel and the stained glass has been reconstructed to offer a beautiful view for the meditation room.  Even the altar has been made, with the wonderful support of Rich Dell, our former baseball coach, and his family, from the wood of the old Chapel.
The Meditation Chapel is open seven days a week, 8:30 am to 11:00 pm, to all members of the campus community for quiet contemplation, prayer and meditation. The worship space is available on a scheduled basis and must be used for religious or spiritual purposes. Worship services, sponsored by TCNJ student organizations are given priority in the scheduling of the center.
In addition to hosting regular religious worship services and spiritual programming, the Spiritual Center is available for weddings, christenings, or other religious or spiritual events. Contact Alanna Gutchigian in Guest Conference Management, 609-771-3077 for scheduling and pricing.