Program Assistant for Health and Wellness | Christina H. Sargiss, M.S.Ed
Christina (she/her/hers) joined the Division of Student Affairs in 2018 as the Program Assistant for Health and Wellness. As a part of her role Christina supports all of the initiatives of the Alcohol and Drug Education Program (ADEP), Anti-Violence Initiatives (AVI), and Religious and Spiritual Life (RSL).This past May, Christina graduated from the Student Affairs and College Counseling Program at Monmouth University and received the School of Education Excellence in Student Affairs Award. Christina believes that a successful Student Affairs Professional is one who is comfortable with being uncomfortable, and is willing to try new things. Christina currently resides in Monmouth County, New Jersey.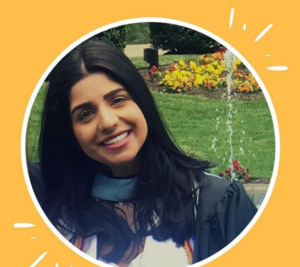 College Enhancement Intern | Ahmed Mahmoud
Ahmed (he/him/his) is a senior biology major and conducts on campus research with Dr. Baker in the Chemistry Department. Ahmed is also a member of Delta Epsilon Psi, on the executive board for MSA, and is a desk assistant for Haus/Phelps residence halls. In his spare time Ahmed enjoys cooking, being outside, and playing sports!